Links from Labarum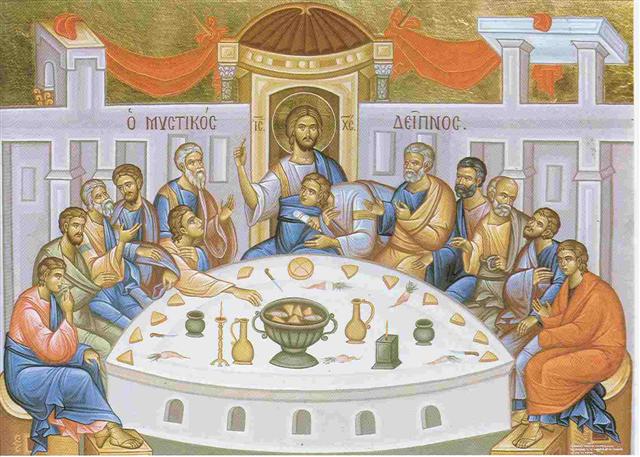 Ikon from Kallinikos Stavrovouni Monastery Holy Cross Mountain in Cyprus
Webmasters are forever changing their sites.
It is hard to keep up with them - some links may not work.
A Bible Collection
Study sites and online Bibles
A Bible Study Synopsis
View the four canonical Gospels and Thomas in columns
http://www.utoronto.ca/religion/synopsis/
Crosswalk
Bible Study Tools
http://bible.crosswalk.com/
The Bible Gateway
Serious Search Engine and many Translations
http://bible.gospelcom.net/bible?
The New Revised Standard Version (UK)
Anglicised Edition (British English Spelling)
http://oremus.org/bible/nrsv.msql?
The New Revised Standard Version (US)
US Version
http://www.hope.edu/academic/religion/bandstra/BIBLE/BIBLE.HTM
A Prayer Online
Sites Offering a Daily Office or a well thought out pattern of prayer.
A Prayer Book online at the official Church of England Site.
Morning Prayer, Evening Prayer and Night Prayer in modern and traditional English for today and tomorrow. In some time zones you may need yesterday's which is also to be found!
http://cofe.anglican.org/services/index.html
Episcopalian Daily Office (ECUSA)
From the Mission of St Clare
http://www.missionstclare.com/english/index.html
RC Net Daily Scripture Readings and mediation
Based on the Common Lectionary Daily Readings - by calendar date - Sundays and Holy Days excepted.
http://www.rc.net/wcc/readings/index.html
Sacred Space
Daily Prayer by Irish Jesuits
http://www.jesuit.ie/prayer/index.htm#counter
The Mass - A Multimedia Event!
This one is a bit different - sounds and pictures too. - not in our time zone, so you might get yesterday's liturgy.
http://www.themass.org/
The Mirfield Office
Daily Prayers from the Community of the Resurrection
http://www.mirfield.org.uk/worship/index.asp
The Oremus Office
Simple Daily Prayers - you may read online or have them emailed to you.
http://oremus.org/
Praying Each day
A prayer and education site of the De La Salle Brothers in Great Britain.
http://www.prayingeachday.org/
The Roman Divine Office
Includes Daily Mass readings and much more.
http://www.universalis.com/cgi-bin/display/-600/index.htm
Chaplaincy Sites
From the three services and around the world
Australian Chaplaincy
An Anglican Site
http://www.anglican.org.au/defence/main.htm
Canadian Chaplaincy
An Official Site
http://www.forces.ca/hr/chapgen/engraph/home_e.asp
New Zealand Chaplaincy
An Official Site
http://www.army.mil.nz/corps/chaplains.cfm
Republic of Ireland Chaplaincy
An Official Site
www.militarychaplaincy.ie
Royal Air Force Chaplaincy
The Official Site
http://www.rafchaplains.org.uk/
Royal Army Chaplains' Department
The Official Site
http://www.army.mod.uk/chaps/index.html
Royal Army Chaplains' Department
The RAChD Site
http://www.armychaplains.com
Royal Navy Chaplaincy
The Official Site
http://www.royal-navy.mod.uk/rn/index.php3?page=501
United States Chaplaincy
An Anglican Site
http://www.ecusa.anglican.org/ashapm/
Christian Mailing Lists
Other groups you can join
Christians on the Internet
A conversation forum for UK clergy and laity
http://www.coin.org.uk
Christian Periodicals
Newspapers and other periodicals
The Tablet
Roman Catholic weekly with ecumenical and international reach
http://www.thetablet.co.uk/
Christian and Cultural Classics
Writings of enduring value
Christian Classics Ethereal Library
A most impressive Collection
http://www.ccel.org/
Literary Resources on the Net
A long list
http://andromeda.rutgers.edu/~jlynch/Lit/
Luminarium
A fine collection of English Classics - all of Shakespeare and more.
http://www.luminarium.org/lumina.htm
The Fathers of the Church
A long, long list!
http://www.newadvent.org/fathers/
The Hall of Church History
A well indexed and attractive collection of the Church Fathers and Christian Theologians up to the modern era.
http://www.gty.org/~phil/fathers.htm
Church Directories
Details of the denominations
Church Net
English Church "Yellow Pages"
http://www.blackburn.anglican.org/yellow_pages/index.htm
Churchnet UK
A UK directory of denominations, congregations and individuals.
http://churchnet.org.uk/
Church, Cathedral and Religious Community Sites
Some of the best
All Saint's, Northampton
A parish Church Site
http://www.all-saints-church.mcmail.com/index.htm
All Souls', Langham Place
A famous London Church
http://www.allsouls.org/
Canterbury Cathedral
The Official Site
http://www.canterbury-cathedral.org/
Cathedrals Britain and Ireland
A list by the Pilgrims Association
http://www.cathedrals.org.uk/welcome.html
Christchurch Eastbourne
A fine parish site
www.xpeastbourne.org
Church of the Holy Spirit, Southsea
Interesting site - look here for some fine clip-art
http://www.hlyspirit.org.uk/index.php
Durham Cathedral and Castle
UNESCO World Heritage Site
http://www.dur.ac.uk/~dla0www/c_tour/tour.html
Farnborough Abbey
A surprisingly beautiful and hi-tech site.
http://www.farnboroughabbey.org/homepage.html
Lee Abbey
Christian Conference Centre
http://www.leeabbey.org.uk/
New York Cathedral - St John the Divine
Official Site
http://www.stjohndivine.org/
Ripon Cathedral
Official Site
http://www.riponcathedral.org.uk/
St George's Chapel, Windsor
Official Site
http://www.stgeorges-windsor.org/

St George's House
Conference Centre
http://www.stgeorgeshouse.org/
St Giles Cathedral, Edinburgh
The Mother Church of world Presbyterianism
http://www.napier.ac.uk/depts/music/st-giles/st-giles.html
St Gregory's Episcopal Church
Not your run of the mill.
http://www.saintgregorys.org/index.html
St Peter's Nottingham
An excellent example of a parish church site
http://www.stpetersnottingham.org/
The Community of the Resurrection
Community and College Site
http://www.mirfield.org.uk/index.asp
The Holy Island of Lindisfarne
The Church on Holy Island
http://www.lindisfarne.org.uk/
The Iona Community
The Church on Iona
http://www.iona.org.uk/
The Painted Churches of Texas
Old and stylish - its all relative.
http://www.staustin.org/PaintedChurches/
Washington National Cathedral
ECUSA in the Capitol
http://www.cathedral.org/cathedral/
Westminster Abbey
The official Site
http://www.westminster-abbey.org/
Westminster Cathedral
Official Site with links to many RC resources
http://www.westminstercathedral.org.uk/
York Minster
The Official Site
http://www.yorkminster.org/
General Reference
Encyclopaedia and more
The Catholic Encyclopaedia
Catholic with a BIG and a little 'C' all must use this. Superb.
http://www.newadvent.org/cathen/
Bulletin Board for Libraries
The BUBL - British Academic list of 12000 sites
http://bubl.ac.uk/
Encyclopaedia of Christianity
An offering from Calvin College, Grand Rapids, MI, USA This text references many other sources, but and often quotes The Catholic Encyclopaedia which accesses faster.
http://www.ccel.org/php/wwec.php
Encyclopaedia Britannica
Has its own search engine which fins internal articles and data on the Web
http://www.britannica.com/
How Stuff Works
Just what it says - any boy's dream!
http://www.howstuffworks.com/
Pinakes
A subject launchpad - a directory of directories.
http://www.hw.ac.uk/libWWW/irn/pinakes/pinakes.html
The Internet Public Library
A good place to look.
http://www.ipl.org/
The Research Institute for Humanities, Hong Kong
A comprehensive collection of links.
http://www.arts.cuhk.edu.hk/
Libraries of Pictures and Clipart
Free graphics
Art Library from ECOLE

A most comprehensive collection


http://www2.evansville.edu/ecoleweb/images.html
Franciscan Clipart
Superb free collection. Organised by lectionary and theme.
Colour and monochrome.
Text not in English, but you will have no problems.
http://www.hermanoleon.org/
There is a large monochrome collection here which seems to be by the same author
http://ciudadredonda.org/iglesia/objetos.htm
Simon Rundell's Collection
A large collection for download in ZIP files.
Look for the resources section of this site.
These files include some of the Franciscan collection above.
Liturgy
Resources for Worship
Common Worship
Official site for Common Worship
http://cofe.anglican.org/commonworship/index.html
Labarum
RAChD Liturgical Resources
http://www.labarum.uni.cc
Oremus (Latin for "Let us Pray")
One of the best and the biggest sites on prayer and worship for Anglicans and others.
http://oremus.org
Billabong
Australian Anglican Worship Site
http://thebillabong.info
Laughingbird
Australian Baptist Site
http://www.laughingbird.net/
Lectionary Resources
Revised Common Lectionary from ECUSA
http://satucket.com/lectionary/index.htm
Lift up your Hearts
Resources from the Evangelical Lutheran Church of Canada
http://www.worship.ca/index.html
Liturgical Commission, New York Diocese
Episcopal Diocese of New York Official Site
http://www.liturgy.dioceseny.org/
Revised Common Lectionary Commentaries
From Montreal Diocese
http://www.montreal.anglican.org/comment/
The Catholic Liturgical Library
A good RC Resource
http://www.catholicliturgy.com/
Music for Worship
Hymns and Spiritual Songs - Other Musical Resources
Church-music-dot-org
Anglican Church music
http://www.churchmusic.org.uk/index.php
The Anglican Online Hymnal
Traditional Anglican Texts from Oremus
http://oremus.org/hymnal/index.html
The Cyber-hymnal
A very big Collection
http://www.cyberhymnal.org/
Padres' Lifesavers
Help in time of need
The Text This Week
Ideas for Sunday - Revised Common Lectionary Resources
http://www.textweek.com/
Commentaries on the Revised Common Lectionary
From Montreal Diocese
http://www.montreal.anglican.org/comment/
Facets of Religion - Christianity
Major resource - see World Faith folder for whole collection.
http://www.bcca.org/~cvoogt/Religion/christianity.html
Find a quotation
Maximises search by passing words onto a number of other agents.
http://www.btinternet.com/~alexandergrant/quotes/finquoteframes.htm
Grace Before Meals
When the pressure is on
http://www.geocities.com/Athens/3680/gbm001.htm
Religious Education
Sites to support primary and secondary schools
The RE Site
Resources for Schools from the Culham Institute
http://www.theresite.org.uk/
Assemblies
An SPCK resource
http://www.assemblies.org.uk/
Some Anglican Sites
Sites for particular Denominational Issues
Anglicans Online
Big International Resource
http://www.anglicansonline.org/
Church in Wales
Official Site
http://www.churchinwales.org.uk/
Church of England
Official Site
http://cofe.anglican.org/site_guide.html
Church of Ireland
Official Site
http://www.ireland.anglican.org/
Episcopalian
A Semi Official Site
http://www.episcopalian.org/
Starcourse
Bishop of London's Site
http://www.starcourse.org/Star.html
The Church Army
Official Site
http://www.churcharmy.org.uk/index2.htm
The Episcopal Church USA
Official Site
http://ecusa.anglican.org/
Some Church of Scotland and Free Church Sites
A broad rang of sites
Church of Scotland
Official Site
http://www.churchofscotland.org.uk/
Church-net UK
Anglican, RC and Orthodox will be found here too!
http://churchnet.org.uk/
Methodist Church
Official UK Site
http://www.methodist.org.uk/
Parish Search (Scotland)
Search for a parish in Scotland
http://www.demon.co.uk/sfs/parish.htm
Presbyterian Church of Ireland
Official Site
http://www.presbyterianireland.org/
The Baptist Union
Official UK Site
http://www.baptist.org.uk/
United Reform Church
Official UK Site
http://www.urc.org.uk/
Some Orthodox Sites
Orthodoxy around the world
A Commercial Icon Site
Nice Pictures
http://thesilvericon.com/
St Sophia's Church, Illinois
An American Orthodox Parish Church
http://www.st-sophia.com/
The Ecumenical Patriachate
Official International Site
http://www.patriarchate.org/
Uniates - Byzantine Catholics
Listed in RC Section too.
http://www.byzantines.net/
Western, Eastern, Oriental Rites
for Orthodox, Oriental, Western Rites, liturgies, etc
http://groups.yahoogroups.org/group/westernro
Some Roman Catholic Sites
Sites in English from around the world
A Catholic Web Directory
Comprehensive Index
http://www.saintfrancis.net/links.htm
Byzantine Catholics
Listed in the Orthodox Section too!
http://www.byzantines.net/
Catechism
The Catechism of the Catholic Church
http://www.christusrex.org/www1/CDHN/ccc_cont.html
Catholic Supersite
Conservative Site
http://www.newadvent.org/
The (Roman) Catholic Church in England and Wales
Official Site
http://www.catholic-ew.org.uk/
The Vatican Site
Official Vatican City Site
http://www.vatican.va/
United States Conference of Bishops
Official Site - many resources.
http://www.nccbuscc.org/index.htm
World Faith Sites
Sacred Texts, Theological, Philosophical and Cultural Information
Centre for Global Ethics
Inspired by Hans Kung and John Hick
http://globalethic.org/
Facets of Religion
A very useful compilation
http://www.bcca.org/~cvoogt/Religion/
Religion at The Research Institute for Humanities, Hong Kong
A wide ranging index covering all faiths
http://www.arts.cuhk.edu.hk/Rel.html
Sacred Texts
A comprehensive Index
http://davidwiley.com/religion.html
The Internet Sacred Text Archive
Another collection - more tribal and "new-world" material here.
http://www.sacred-texts.com/index.htm
An older table of links with some duplication
Liturgical Links
General Christian Links
Commercial Sites
| | |
| --- | --- |
| Site Description | Site Address |
| Fine Art Greetings Cards | |
| Fine Art Greetings Cards | |
| Spanish Church Furnishers | |
| English Church Furnishers | |
Web Directories
Links from Labarum